Partials and Dentures are removable replacements for missing teeth. Complete dentures are used when all the teeth are missing while partial dentures are used when some of the natural teeth remain.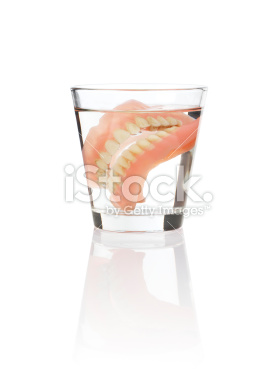 Dental Implants are a great alternative to dentures and can be used to support permanently cemented bridges. Implants and bridges more closely resemble the feel of natural teeth. Dental Implants can also be used to stabilize a removable denture. By adding just a small amount of implants the denture that is supported by the implants and the soft tissue is able to be snapped off daily for cleaning. Dental implants are the most popular alternative to dentures. Not everyone is a candidate for implants, so be sure to consult your dentist for advice.
What to expect at your appointment:
Dentures and partials require multiple appointments for impressions and "fittings" to be taken and sent to the lab for the partial or the denture to be made. A series of impressions and measurements will be taken of your jaw. Models are created in the exact shape and position of the denture to be made. This model will be "tried in" several times and the denture will be assessed for colour, shape and fit before the final denture is cast. Then the final denture will be cast and adjustments will be made as required.